Use These Productivity Apps and Software to Boost Your Performance
Focusing on one thing at a time can be challenging, especially if you're working from home and expected to be glued to your screen all day long. An average adult spends over 13 hours a day using an electronic device, but how many of those hours do we actually work? Sticking to a plan and getting things done can be surprisingly rewarding when you've spent the past week procrastinating or stressing about time. Being IT experts, we have decided to share our top 5 favorite apps and software that promote work productivity. 
Ready to slide into that wave of deep work? Meet your new personal assistant DEWO! This smartphone app includes a feature that blocks notifications and sets the "do not disturb" mode on chatting apps. But more importantly, DEWO helps you plan meetings in a way that allows you to focus on deep work in optimal frequencies. Moreover, it analyses your week and reports how you spent your time, and offers tips generated based on your specific patterns. And guess what. It's all for free!
Photo retrieved from: https://memory.ai/dewo
Another time-saving instrument is Microsoft's sticky notes, available both on your desktop and Android or Apple smartphone. This free program helps users organize and markdown short notes that would otherwise clutter the space in their paper notebooks. Sticky notes also support handwritten notes.
Photo retrieved from: https://www.microsoft.com/en-us/p/microsoft-sticky-notes/9nblggh4qghw?activetab=pivot:overviewtab#
Do you ever stop and try to remember all the programs and websites you'd visited in the past week or month? This time assessing software, or mobile app quietly tracks down your device activity and reports your habits. In order to help you with your productivity, RescueTime shows which websites and apps you've been using and for how much time. What makes this app favorable over others is that it sorts your moves into customizable categories. Users may choose between the free light version or the premium $12/month plan.
Photo retrieved from: https://medium.com/luminesce/track-where-you-spend-your-time-with-rescuetime-ff7dc320ff80
For those of us who tend to drift off unconsciously to websites that just eat up their time, there's a handy browser extension called Stayfocusd. This app simply blocks the sites you visit for the rest of the day after reaching the pre-set time limit. Say yes to getting stuff done!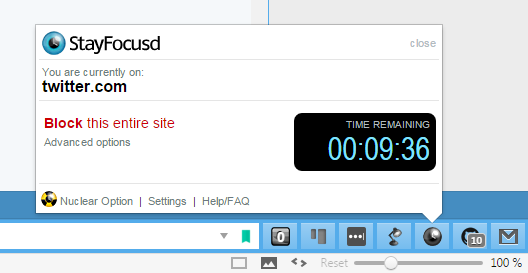 Photo retrieved from: https://www.lifehack.org/articles/technology/10-online-apps-for-better-focus.html 
Do you ever feel stuck and simply struggle to maintain your attention to finalize a dull task? Maybe setting up short, productive time slots to carry out the most tiresome assignments is just the answer for you. Focus Booster works with Windows and Mac computers as well as smartphones and websites. This app starts a timer for your desired amount of minutes, and you're all set to start checking off your to-do list!
Retrieved from: https://www.focusboosterapp.com/
We've all had those days when trying to write up that long report was just hopeless, and drinking one coffee after another did not help finish that important presentation. Our technology can be a real productivity killer, but at the same time, it offers cures to help users ignite that workflow again. Whether you need reminders to get back on track or just organize your chores and meetings to be on top of everything, our favorite apps can help. 
Are you interested in becoming more efficient? Read our article about the 6 Best Information Technology (IT) Tips and Tricks for Successful Businesses.